Badrinath Temple
The temple is approximately 50 feet (15 meters) high and has a small cupola at the top. Stone-built facade with arched windows. The main entrance is reached via a broad staircase that leads to an arched gateway.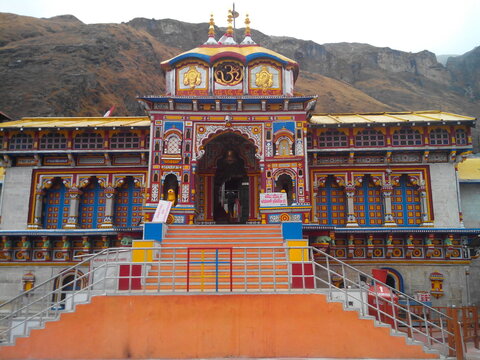 Badrinath Temple
Badrinath is a Hindu holy city and a Nagar Panchayat, in Chamoli district, in the state of Uttarakhand, India. It is the most important site in India's Char Dam pilgrimage. The town is located in the Garhwal hills at 3133 m elevation, in the shadow of Nilkantha peak (6 560m). It is located 301km north of Rishikesh. Travelers can ride 233km by road from Badrinath (near Kedarnath) to Gaurikund.
Badrinath was established in the ninth century as a major pilgrimage spot by Adi Shankara. Its popularity has increased in recent years. Badrinath's temple is a sacred site for Vaishnavites. Badrinath has been a holy spot in legends and scriptures for thousands upon thousands of years. The Srimad Bhagavatam states that Badrikashram was where the Personality of Godhead ( Vishnu), who in his incarnation as Narayana and Narayana, has been performing great penance for the welfare all living entities since time immemorial.
Badri is a berry that was abundant in the region. Nath is Vishnu. Badri is the Sanskrit meaning the Indian Jujube Tree that has an edible berry. Some scriptures mention Jujube trees being abundant in Badrinath. Legend has it that Goddess Lakshmi incarnated as a berry bearer to sustain Lord Vishnu's long penance in the harsh Himalayan environment.
Temple
The main shrine area contains the black stone image, under a Badri tree, of Lord Badrinarayan. Thirteen more murtis were placed around the temple to worship. These include murtis for Nara & Narayana (the fourth incarnation) of Vishnu, Narada (the fourth incarnation), Lakshmi (the fourth incarnation), Narada, Ganesha, and Uddhava. The Badri Tree is also visible. Just below the temple are the Tapt Kund hot sulfur springs. Many pilgrims make it a point to bathe in the hot springs before they visit the temple. 45 degrees Celsius is the year-round temperature at the springs.
Legend
Badrinath is mentioned in religious texts dating back to the Vedic period. Some reports claim that the temple was built on the site of a former Buddhist temple. Vishnu is seated in padmasana rather than lying down according to one legend. A legend states that Vishnu was chastised by a sage who witnessed Lakshmi, Vishnu&rsquo's consort, massaging his feet. Vishnu visited Badrinath to practice austerity. He meditated for long periods in padmasana and was then chastised by Lakshmi, a sage
Another legend states that Shiva and Parvati were the ones who performed tapas at Badrinath. Vishnu appeared as a small boy and began to cry loudly, disturbing the others. Parvati inquired why he was crying, and he said that he wanted Badrinath to meditate. Shiva and Parvati discovered Lord Narayan in disguise. They left Badrinath to move to Kedarnath. The Srimad Bhagavatam states that Badrikashram, the Personality Godhead (Vishnu), had been living in great penance from time immemorial to ensure the welfare of all living beings. " According to the Skanda Purana, "There in Badrikashram the Personality of Godhead (Vishnu), in his incarnation as Narayana and Narayana, had been undergoing great penance since time immemorial for all living entities."
What's Your Reaction?